How To: set up Timbuktu
Timbuktu is an application that enables robust, full-featured cross-platform screen sharing. Here is how to set up Timbuktu on a Macintosh platform...
Go to Netopia and download a demo version of Timbuktu that lets you evaluate the software before you purchase it. At any point, you can upgrade the demo version to a full version by entering the license key you receive when you purchase the software.
Once you have Timbuktu installed, you can easily connect to someone else who has Timbuktu set up by typing in their IP address.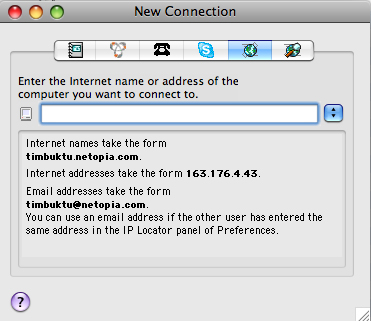 Allowing someone to connect to you through Timbuktu requires some additional setup on your part.
If your computer is behind a router you must enable port forwarding on your router (please note that some routers might refer to it as virtual hosting or something else). To administer your router you must have the router IP address, username and password. There is a website PortForward.com that will walk you through setting up port forwarding for the router that you using and the type of traffic (in this case Timbuktu) that you are port forwarding.
In some cases there may be a firewall at the network level and/or on the computer that you must deal with. Generally, if this is the case, there will be a system administrator that you can contact for assistance.
Next you will need to allow incoming TCP/IP traffic. Go to the Timbuktu "Setup" menu, select "Incoming Access" and check the TCP/IP checkbox.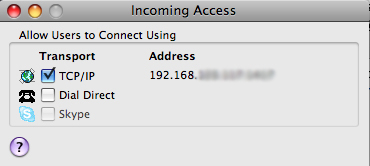 In order for someone to connect to your computer via TCP/IP, they will need to know your "external" IP address. You can find out what your "external" IP address is by going to WhatIsMyIP.com.
By default Timbuktu will require you to grant permission to an incoming user. It is also possible to define trusted users who can connect to your computer with their username and password. To do so, select "Define Users" from the "Setup" menu and click "New"...


Enter a stong username and password and check the privileges you wish to grant the user. Make sure that the checkbox that says "Ask for permission each time" is NOT checked and that "Let user dial into your computer" IS checked and click the "Save" button.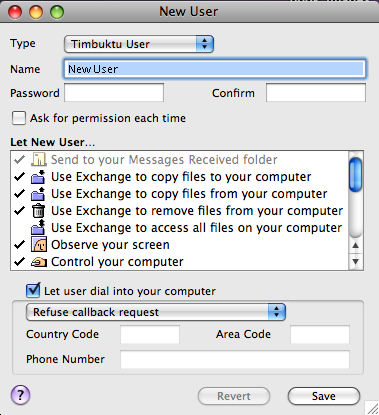 Timbuktu has many advantages compared to other screen sharing technologies, including:
Faster than other screen sharing technologies because Timbuktu works point to point and will only send screen deltas (changes) across the network connection.
Works cross-platform.
A one-time expense, which often works out to be more cost-effective than subscription services.
Enables multple people to connect to a computer at the same time facilitating collaboration.
Enables you to send the Mac OS clipboard from one Mac to another Mac.
Allows you to record a QuickTime movie of a work session, useful for training and review.
Happy screen sharing!